Our first homeschooling lesson with friends last week was a success! My son Kai is one month away from hitting 2.5 years old, and I began to realize the importance of social interaction along with a structured form of learning and playing.
After a few failed attempts of teaching my toddler the alphabet at home on my own, I started talking with other moms and seeking some online resources for guidance and inspiration.
And, finally after speaking with a few of my mommy friends who I met at the library, I really got motivated and started developing a toddler curriculum during my recent trip.
Wednesday, September 26, 2018
Every Wednesday morning, for about an hour, I teach and direct play! That first day, we welcomed two of Kai's friends to our house! They are both very close in age. The little boy is one month older than Kai and the little girl is three months younger than him. All the kids have their own personalities, which makes the class challenging yet educational. Everyone gets to show his or her strongpoints and they can learn a great deal from each other!
Lesson Plan and Poster
Below is my lesson plan. It's a FREE PDF DOWNLOAD of PUMPKIN LESSON PLAN.
So feel free to view, download, and print at home!  I have included the sources I have used in the file, and additional resources will be listed in the Resources section of this post.
[pdf-embedder url="https://plantravelinspire.com/wp-content/uploads/2018/10/Pumpkins-Lesson-Plan-1.pdf" title="Pumpkins Lesson Plan"]
Here was my toddler homeschooling lesson poster:)
As you may notice, it was a lot to cover! I ended up having to make an adjustment mid-way through the lesson and eliminated the life cycle of a pumpkin because it just didn't seem like it was going to grab the kids' attention.
Water Activities
This one is a picture of the pumpkin washing station where I filled a large plastic bin with some warm water and added some brushes for the kids to clean off the dirt from the pumpkin. We did this activity indoors so I ended up putting a towel underneath the tub, but you could easily bring the classroom outdoors too!
In my mind, this teaches the toddlers to focus on cleaning something, and it demonstrates the importance of helping and working together to complete chores.
To the right of my son you may also notice another plastic bin. This one was used to demonstrate the concepts of sink or float?! We first saw this activity in an episode of Blippi!  My son absolutely loves watching his educational videos. I think Blippi is very enthusiastic and definitely captures the attention of my little one. I enjoy watching Blippi with my son in small doses:)
Anyways, when I introduced sink or float to the kids, they automatically began putting all the objects into the water and their goal was to play. This was perfectly fine because it was getting their attention and it was more of a "free play" activity! It wasn't my goal, but we were totally happy with the kids enjoying themselves. That is really our goal here: for the kids to have fun, learn to play with other kids, and conduct their own experiments and create their own form of curious play.
Pumpkin Painting and Decorating
In between my structured teaching, we handed out brushes, paint, and smocks, and everyone brought their own pumpkins to paint! The kids had fun painting. Afterwards, we let them dry and I bought Halloween-themed foam stickers from the Dollar Tree for the kids to stick them on after our Chinese lesson!
In addition to painting and decorating their very own pumpkins, the kids got a chance to help measure out the ingredients while we made slime for the first time!
Pumpkin Slime-Making
One of my mommy friends brought pumpkin seeds, which were so scrumptious! She got the ones that were seeded and salted. YUM! We all got to taste-test these pumpkin seeds before we added them to our slime mixture.
The recipe we used to make this version of slime can be found here.
It took a little bit to figure out how to not make it as sticky, but it turned out to be such an amazing sensory activity for them.
Kai and I ended up playing with it after everyone left, and we must have spent over a half an hour on this activity.
Chinese for Pumpkin
Here are the Chinese characters for pumpkin. In pinyin it's nánguā.
I have included a printout for you to download for Pp is for Pumpkin, which includes the Chinese characters for pumpkin.
The Chinese resources I used during my lesson are found in the Resources section of this post.
Pumpkin Bread
Another mom friend made pumpkin bread and brought it for everyone to share. It was so thoughtful! We really have a wonderful and creative team of moms in the group. So happy.
After the lesson and activities, the kids got to play upstairs in Kai's play room. And, we all got to have some pumpkin bread and other snacks. It was a nice time to just wind down and do some bonding.
Feedback
I was so happy with the feedback! One thing I am going to try and focus on is getting the kids' attentions as soon as we start the lesson.
It had been a while since one of the little girls had been to our house, and the little boy had never been here before. Hence, distractions galore:)
We are hoping the next time the kids come over, I will plan for more songs to grab everyone's attention. Maybe playing some dance music or adding a few more songs in the beginning of the lesson to set the toddlers in "lesson mode"?
Kai, of course, was just too comfortable and drawing on the whiteboard while I was reading the books, haha.
One suggestion was to do a rotation, where, every week we would travel to other mom's houses and everyone would plan their own lessons. Such a wonderful network of moms here. And an amazing idea…that we would definitely want to do after the holidays. Why? Well, one of my mommy friends is leaving for a month to visit family out-of-state. And, the following month, our family will be away for a month and a half, traveling.
Everything will return back to a normal schedule come January 2019. So, we could essentially start this rotational homeschooling program with the toddlers then. For the remainder of the autumn season, I have developed the curriculum and will continue to host the kids at my house or wherever we are. And, during our time away from each other, the moms will have the choice to use my weekly lesson plans and do their own activities at home.
It was such a great first run. 
I'm super excited to be doing this with my toddler. He's having such an amazing time learning. It also gives me purpose. I am thankful for having friends so Kai is able to socialize and interact with them.
x
Field Trip Tie-In
Before or after each lesson, my intention is to bring the classroom outside for the kids to explore and experience things first-hand. With the colorful changing seasons of New England, what a perfect way for us to do some family bonding while reinforcing a lesson topic:)
Our intention was to visit a local pumpkin patch and do some hayrides. Unfortunately, he started getting a runny nose, the coughs and sneezes:(
Last night, he was up a few hours because he couldn't breath from his nose. I honestly swear this kid gets sick so many times during the year. It's at least once a month if he's interacting with other people. I'm praying his immune system is solid once he gets older because he's probably caught 70% of the colds out there.
Maybe we will take a family trip to a local farm that incorporates all of the autumn topics I'm covering.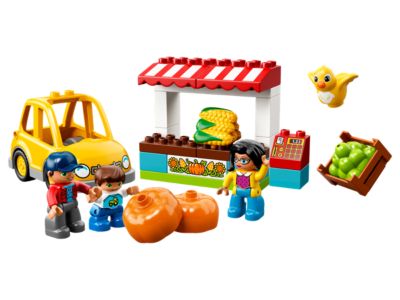 Resources
Here are the links I used throughout the lesson:
YouTube Video: How to say pumpkin in Chinese (start at 1:18-1:50)
Books

Seasons by Xavier Deneux ISBN: 979-1-02760-141-7 (Fall page)

Life Cycles Pumpkins by Robin Nelson ISBN: 978-0-7613-4073-7

Mouse's First Fall by Lauren Thompson ISBN: 978-0-689-85837-6

The Pumpkin Book by Gail Gibbons ISBN: 0-8234-1465-5
Find Toys, Games, Arts, and Crafts For Only $1 Each! Shop Today!
Thank you ALL for reading! If you have any questions or suggestions, feel free to leave a comment:)